Our Company :
K9 Ambassador is a company whose main specialty is the training and supplying of

Highly Trained Personal Protection Dogs.





Focussed on Personal Protection






German shepherd and other services breeds, dogs that will guard and protect you and your family ones in all situations.

Available Breeds:
German Shepherd Dog
Belgium Shepherd - Malinois
Dobermann
Rottweiler
Giant Schnauzer
Bouvier des Flandres
Beauceron
Boxer
Great Dane
Other breeds available on request
Working lines, show lines, long hair German Shepherds - adults or puppies are all available from our top european bloodlines.

''Buy The Right Device For Your Protection!''

K9 Ambassador knows only the best will do.
Through our contacts in Europe and our team of professional trainers in
Czech Republic and Slovakia , we only purchase TOP QUALITY DOGS. These dogs will be throughly assessed by our professional trainers personally tested and selected.
The dogs we purchase need to have nerves of steel, excellent behavior, eloquent social skills and good looking with world class pedigree.
They are then trained to a very high standard of our protection dogs levels:

- Family Protection Dogs
- Personal Protection Dogs
- Elite Protection Dogs

Honesty is vitally important to us here at K9 Ambassador.

We pride ourselves on finding the right dog for the right family….

Stud dogs also available. See our dogs.
---
Our team background is coming from Police, Military, Sport and different kind of dog training systems and methods. During this time we have taught a cross-section of different breeds in different countries.

Our trainers are K9 EXPERTS and are among the Finest Professionals available in Europe.

We have trained extensively in Family & Personal Protection, Family pets, Sport dogs and K9's for Police & Military services globally.

We put many working titles such as SchH, IPO, SVV, ZVV on numerous dogs and different breeds including German Shepherds, Belgium Shepherds - Malinois, Rottweilers, Dobermans, Giant Schnauzers and others services breeds.

Our trainers have a combined total of eighty six years of knowledge in training and the behaviour of dogs.



We Provide Personal Delivery and Handler Course Worldwide.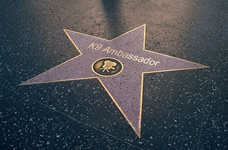 Clients have included Families, Famous Celebrities, Millionaires, Corporate clients and Government agencies.

Click to see our team
---
---
Our Training Methods:
We use different training methods on each single dog.
One hundred people have one hundred nature and this is same with the dogs.
There are no 2 dogs with the same nature.
These methods we got from many years of our training and we are still learning.

In dog training you will learn all your life something new.

Click to see training & services
---
Our Philosophy:
In this time when the world is in a bad situation globally is a priority to keep your family, property and business out of potential dangerous threat.
We train our protection dogs to be ready for any threat which you can meet in real situations.


---
Our Differences from Others:
• honest and extensive communication
• custom tailored dog for our customers
• 3-5 days handling course ,,Handover''
• DVD from training process and ,,Handover'' for futer help
• background of the dog
• professional advice



Back to Top